Virtual events became popular during the pandemic, but they're here to stay. From live-streamed music concerts to online seminars, virtual events ended up being part of our daily lives.
At the same time, more people started to work from home indefinitely. Some team members have never even met their co-workers in person.
Hosting a virtual happy hour can be a great opportunity to bond with your teammates who live in different cities. It can be a virtual team-building activity. Employers are now looking for ways to help team members bond, feel more connected, and trust each other as they'd do during an in-person working environment. And a happy hour can be perfect for this.
Virtual happy hours let each person individually log onto a group video chat from home with their favorite beverage, maybe a snack in hand, and just casually chat & catch up with co-workers. But these virtual events can turn stale quickly. After a few weeks, you might find your team ends up awkwardly staring at each other for a while before logging off early. You need something to help you break free from the monotony and add more fun to your weekly chats.

Read on for fresh virtual happy hour ideas.

1. Play a Game
Nothing energizes a team like a friendly competition. So why not turn your virtual happy hour into an informal game night? Everybody can have fun, relax, and keep their minds off work. You can save the professional development for Tuesday staff meetings.

All you have to do now is book a meeting and select a game. Whatever your team's interests and skill levels, there're many virtual happy hour games out there that will suit your needs. Here are a few of our favorites:
Paid online games:
Jackbox Party Pack – A series of digital games including Jackbox trivia, Fibbage, Drawful, Word Spud, and Lie Swatter. There are six-party packs in total, each with its own set of games to try week after week so you won't get bored. This option is awesome if you want to make virtual happy hour "Games Edition" a regular thing.


Drawful 2 (a Jackbox game) –If you're a Pictionary buff, you'll love Drawful 2. It gives players the power to score each other's drawings and try to fool their opponents with fake prompts. So, if you don't want to buy the whole Jackbox Party Pack, you can totally purchase it separately.

Tabletop Simulator –You could also create your own original game for a virtual happy hour. Tabletop Simulator includes 15 classic games but you can build one from scratch and personalize it to match your company and team. Imagine if game characters could represent team members. It'd be hilarious.

FREE Online Games:
You can have an awesome virtual happy hour without spending any money at all. Try one of these free games available online:
Spyfall –A game of bluffing, probing questions, clever answers, and suspicion. Each player receives a location and a role on their device, except the randomly selected spy who must guess the location before the other players identify them as the odd person out.


Among Us – A murder mystery game that takes place on a spaceship. Complete assigned tasks around the ship before time runs out, but watch out - one of your teammates is an imposter secretly trying to murder you all.


Codewords –Fans of Taboo or Password will love this word guessing game. Split your group into two teams and assign one clue giver for each team. Get your team to guess your codewords in as few turns as possible to win.
Team up and choose your game.
2. Plan Your Escape
Virtual escape rooms are super fun. But the best part is that they're great for building rapport and teamwork. Your team gets "locked" into a room for 30 or 60 minutes and works together to solve clues, puzzles, and riddles to find your way out.
Virtual escape rooms come in all different themes and difficulty levels, just like in-person ones. So you can find one that matches your virtual happy hour theme.
Let us show you some options.
Locked In Escapes has a fun zombie room, perfect for the Halloween season. Or you can split your team into two and challenge each other to Puzzle Wars. Another option is to take on the Wizard's Lair from The Ultimate Escape Rooms or head over to Escape from Home UK which has multiple virtual escape rooms to try out. MPower Escape has transformed their room "The Cabin'' (in the Bayou) into an immersive virtual experience and offers other virtual escape rooms as well.

If you want to find more rooms, check our EscapeTix platform.

3. Go Somewhere New
Have you thought about taking your teammates on a virtual tour?
World-famous sites like The Great Wall of China, Machu Picchu, The Smithsonian, and the Musee d'Orsay offer virtual "walking tours" which allow you to explore the attractions from home. You'd never get to one of those on a normal happy hour!

This is a great opportunity to check out local attractions, too. Plenty of museums, zoos, and other landmarks have launched virtual tours and other types of virtual experiences. If your team lives in geographically disparate locations, take turns "touring" each other's cities and let the local team members share what they love about their hometowns. This can be a great way to get to know each other.

4. Attend a Virtual Event
Remind your team to get the popcorn ready, because you're taking them to an awesome virtual event.
Many of our favorite in-person events are offering a hybrid model these days, which gives guests the option to attend virtually from anywhere in the world. Invite your team to an upcoming concert, where everyone can set the volume to their own comfort level and have their favorite concessions on hand. Or join a virtual class or seminar hosted by an industry expert.
We're seeing virtual events from nearly every genre adding virtual access these days: sporting events, cooking demonstrations, film festivals, book signings, and even some Halloween experiences.

Need some ideas? Start looking for virtual events here.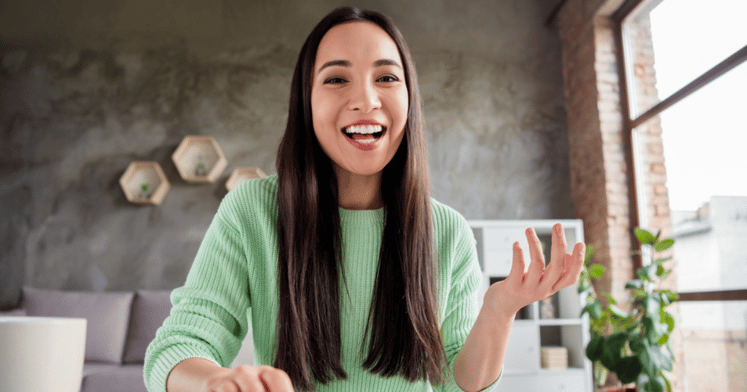 5. Start a Conversation
"How was everyone's week"? just doesn't cut it anymore. Keep the conversation fresh and engaging with unexpected topics and questions for a lively virtual happy hour every week.
Here are some ideas to keep everyone engaged:
Play Dress Up – This makes the perfect icebreaker. For example, your theme could be "Dress like your idol, hero, favorite band, or sports team". Each person will show up with a specific costume and the rest of the team will have to guess who they are. This theme is also great for letting people tell stories and anecdotes related to why they chose to dress like that.


Show and Tell – Invite your team to show each other around their work from home setup, or bring something to tell a story about. They can show anything – a recent purchase, something that makes WFH easier, something they made, or a travel souvenir. Suggest a new category each week and ask for volunteers to show & tell.


TableTopics – A Deck of fun, engaging questions to help your team get to know each other better during your virtual happy hour. Even if you've been working together for years, you'll be surprised by the insights and fun facts that arise from these entertaining topics.
6. Send Everyone a Special Delivery Box
If you were hosting an in-person happy hour, you might offer to pay for the first round of drinks or maybe some appetizers to snack on. You can do the same with a virtual happy hour, too - you just need to get a little creative.
Consider sending each participant a package in advance with all the makings of a perfect at-home celebration. Maybe that means wine and cheese, or hard seltzer and sweets. Whatever your team enjoys!
You don't need to box each package up yourself: there are plenty of businesses that will take care of everything for you.
For example, City Brew Tours offers virtual events to encourage teams to try something new together by delivering Custom Tasting Boxes for each guest. You could all enjoy a new virtual experience while tasting some cheese and beer. They also offer other activities for you to do with your co-workers, such as beer brewing or ice-cream making from home.

You can also choose an event theme such as "Make your own Cocktail Competition" and send your team a box with a cocktail shaker, a strainer, a pourer, and more. Each guest should try to make an original drink, tell others what ingredients they are using, and the team can vote on a winner.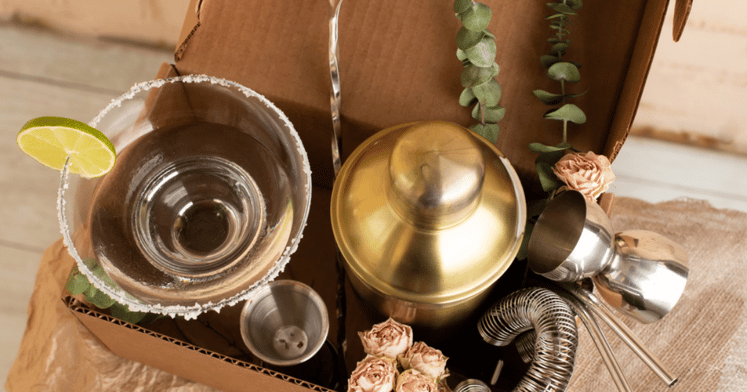 7. What about a hybrid happy hour?
Hosting a hybrid event can be the best of both worlds.
Some members of your team might live in the same city, but never see each other because they work from home. So it can be fun to encourage local team members to gather together in person and join the virtual happy hour with the rest of the team.
This option is amazing since it allows your co-workers to connect with each other behind a screen but still have the opportunity to personally bond with a colleague.

Now, you're ready to host an awesome virtual happy hour.
You can start your virtual event right away with Passage. Sign up for free or request a demo today:
If you need help planning your incoming events, download our Event Organization Checklist: