Increased revenue. Fewer disputes. More peace of mind.
Our newest feature will help your event boost revenue while allowing guests to purchase tickets without regrets.
Passage is excited to announce that we have partnered with Protecht to help us offer Refund Protection to all our event organizers and their customers. When this feature is enabled, your guests will be able to add Refund Protection with a single click on the checkout page. [Jump to How Can I Enable/Disable Refund Protection?]
Convert On-the-Fence Buyers
With Refund Protection, your guests are covered if they're unable to attend your event due to one of the unforeseen circumstances covered in the program, including accident, illness, and family emergency. Protection is free for the event organizer and costs customers a nominal percentage of their cart total.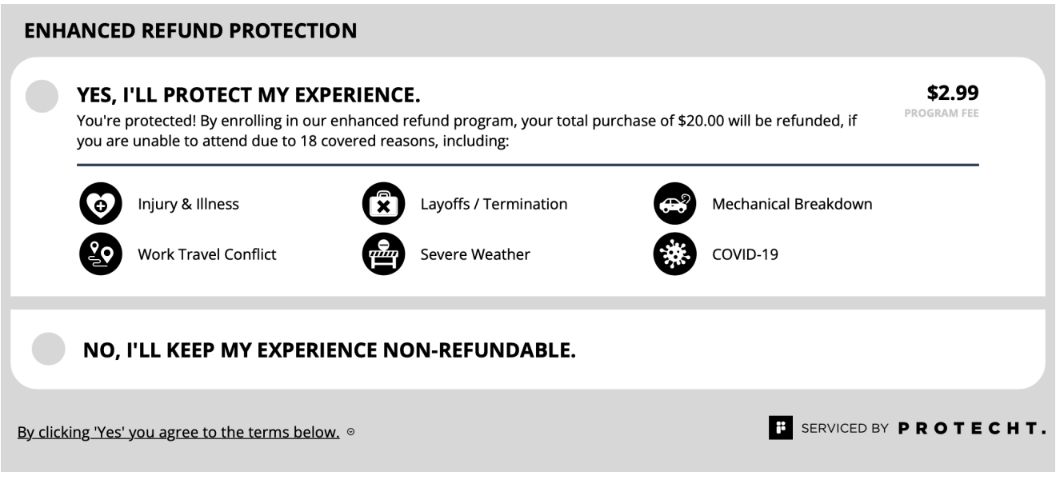 This extra peace of mind makes it easy for guests to purchase tickets without hesitation, converting buyers who might otherwise wait or decide not to buy. If problems arise, they will be quickly reimbursed for the complete cost of their purchase through a simple-to-use online claims portal. If they require any additional help, Protecht's dedicated in-house consumer service team is available to assist them with any questions or concerns they may have.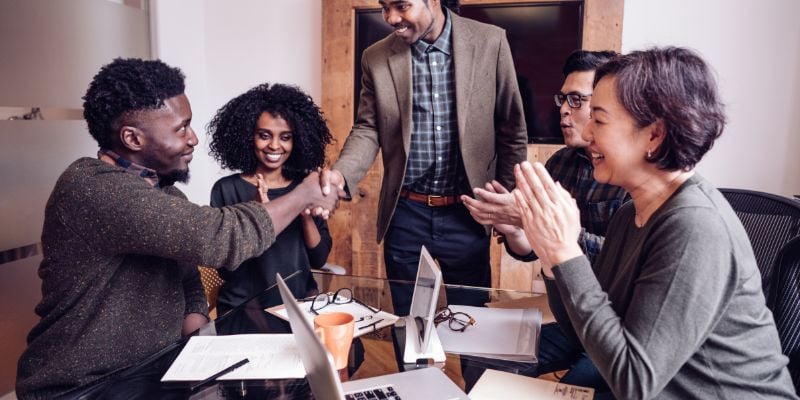 Boost Your Bottom Line
One of the most exciting benefits of Refund Protection is the extra revenue you'll earn. Every time a guest purchases Refund Protection, your event will receive $0.25 - without doing any extra work!
We're always looking for ways to help you reach more fans and make more money. So when we were looking for a Refund Protection partner, it was important to our team that event organizers like you could benefit from this feature.
Reduce Disputes & Refunds
How many times have you had a customer ask for a refund? It can be a tricky situation to handle. Even with a no-refunds policy, a lot of event organizers will make an exception if there's a true emergency. That's great for the guest, but means you lose out on the revenue from that sale.
When a customer adds Refund Protection to their purchase, you won't have to worry about fielding refund requests. It's all handled seamlessly through Protecht.
This feature will also help to reduce the number of chargebacks or disputes submitted by guests. If they can easily submit a request through Protecht, there's no need to roll the dice by submitting a dispute through their credit card company.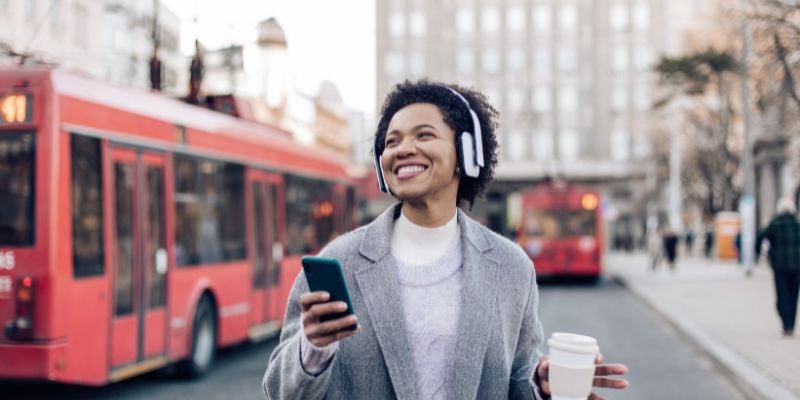 Increase Loyalty & Retention
When guests have a positive experience with your event, they're more likely to return in the future. And to encourage their friends & family to visit.
Refund Protection carries that positive guest experience through, even when someone isn't able to attend. Not being able to enjoy your event will be disappointing, but if they haven't lost money on the transaction, they'll still walk away with good feelings about the overall experience and be more likely to purchase tickets to one of your future events.
Simple Refund Process
When they add Refund Protection to a purchase, your guests will get an email with program details and refund request instructions. Once a guest submits a refund request, our partners at Protecht will work with the customer to refund them the full value of their purchase.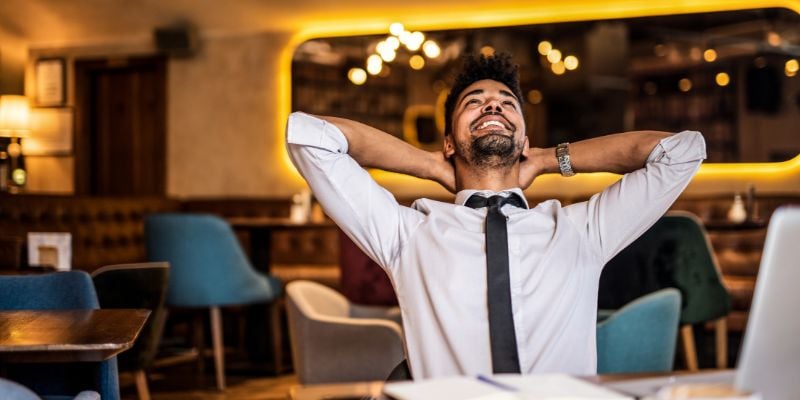 Keep the Change
We've got the refund covered. You and your customer keep your money, and your peace of mind. Plus, your inventory is released back to the marketplace for a future purchase. It's a win-win!
How Can I Turn Refund Protection On/Off for My Event?
It's simple! Refund Protection is turned on by default for all events, but you can turn this feature off at any time.
Refund Protection can be enabled from your admin area by opening the Account dropdown menu and select Account Settings. On the next page select the checkbox for Enable Enhanced Refund Program Enrollment Option to turn it on. To turn off refund protection just deselect that setting.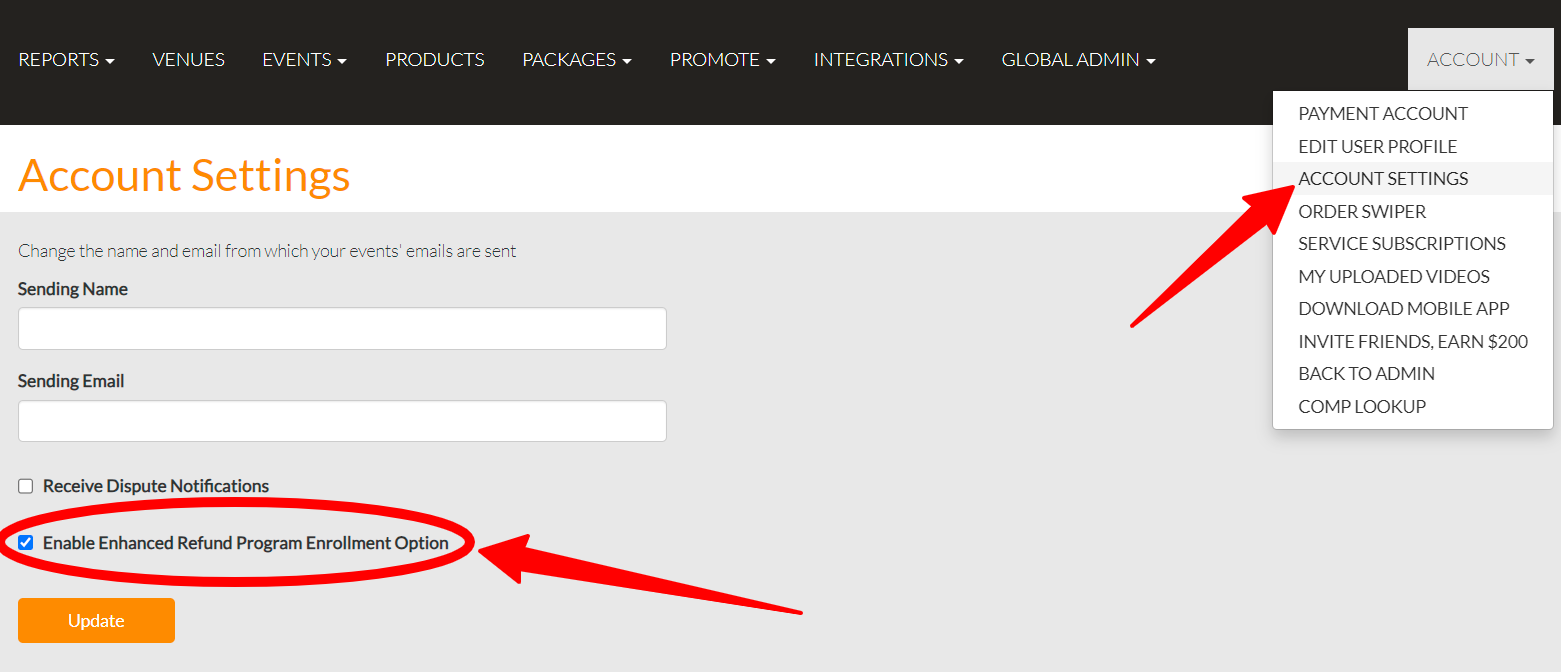 Frequently Asked Questions About Refund Protection
How does a ticket purchaser get protection?
Add-on protection is offered during the checkout flow where consumers have the option to add or decline with one click. The consumer cannot move forward with their purchase unless one of the options is selected.
By default, both options are empty until a selection is made.
Consumers may not add protection after their purchase is complete.
How does a customer request a refund?
Requesting a refund is easy. We recommend selecting the "Request Refund" button found within the confirmation email received. For the best experience, it is recommended that a desktop or laptop computer, rather than a mobile device, be used when requesting a refund.
To qualify for a refund, all requests require supporting documentation as proof. Required documentation is determined by the refund reason for which the consumer filed. For example, a physician's statement would be required for a refund request relating to illness. If such is submitted for a refund reason within the allotted time frame, and contains the correct documentation, the refund request will be approved, and the consumer will be reimbursed for the covered amount.
Please note that the Refund Protection fee is not refundable.
How long does a customer have to file a refund request?
A refund request must be made within 45 days of the attendee experience.
Does the enhanced refund program offer refunds if the event is canceled or rescheduled by the venue or event organizer?
NO - The enhanced refund program does not offer refunds if an event is canceled or rescheduled by the venue, promoter or ticketing company. The program reimburses a consumer should they be unable to attend due to covered reasons. The enhanced refund program is designed to lend the greatest peace of mind to the consumer, should they be unable to experience their event due to covered occurrences.
Does the enhanced refund program offer refunds if a person has general work or personal conflicts and is no longer able to attend their event?
NO - The enhanced refund program does not offer refunds for any general employment or personal conflict. The program pays refunds for scenarios that stand in the way of the attendee making it to and experiencing the event – it is not by attendee's choice; rather, it is by obstacle. They want to go but cannot due to one of various refundable reasons. The protection is conditional. For example,
IF the attendee's vehicle breaks down, and IF that malfunction prevents them from attending the event, only THEN can they request a refund.
What does the enhanced refund program cover?
To view full terms & conditions, please visit protecht.com/enhanced-refund-program-terms
Can protection be added AFTER purchase?
NO - Consumers may not add protection after their purchase is complete. This is only available for purchase online during the consumer's initial checkout for their ticket(s)/registration/reservation.
Can Protecht help with changing the date, time, or any other parameters of my ticket(s)/registration/reservation?
NO - Protecht does not have access to consumer reservation/registration/ticket purchase details and cannot make any adjustments. Protecht can only assist with qualified, consumer refund inquiries.
We hope this new feature helps you increase your event revenue! If you have any questions, please feel free to reach out to our team. We're here to help.