Ticket sales are the main way that most events make money. Guests pay for admission, and in return you give them access to all the experiences you have to offer. But that doesn't have to be your only revenue stream! There are plenty of other ways for you to make more money and for your guests to have a better experience during your event.
Let's walk through six different types of revenue streams you should think about incorporating into your next event.
Sponsorships
"Why would someone just give us money for our event?" Is a question we hear from a lot of event producers, but an event sponsorship can be a win-win. From global brands to local businesses, there are plenty of companies looking for opportunities to promote their message. And your event could help them reach new audiences.
Not sure where to find sponsors? Or how to create a sponsorship proposal? Check out our guide to getting a "yes".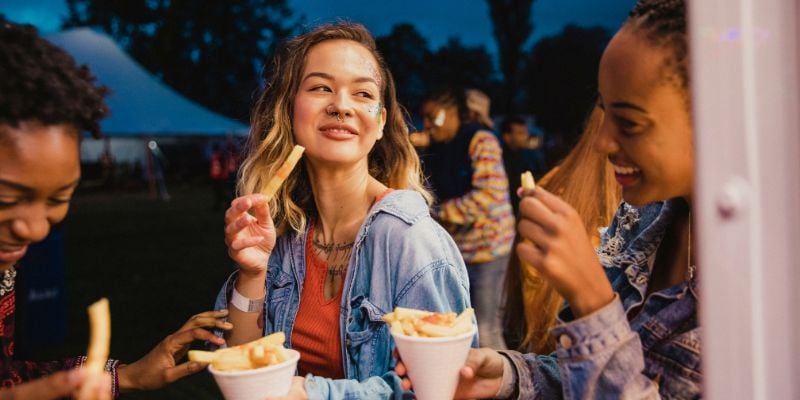 Concessions
Think beyond the snack bar. Food and beverage sales can be a big revenue generator for events. If your venue allows for outside vendors, consider working with local food trucks or restaurants so you don't have to do everything yourself. Many events work out a deal with these vendors so they get a portion of the proceeds for all food and beverage sales.
Where do you start? Create a proposal, just like you did for sponsorships. Show potential vendors how many guests will attend your event, so they can estimate what their potential sales will be. Then, ask some of your favorite local spots if they'd be interested in joining you!
Merchandise
A lot of us hear the word "merch" and picture a stack of t-shirts displayed on a folding table outside a concert. But it can be so much more than that.
If you're worried about the up-front costs of producing tons of products that might not sell, there are many print-to-order suppliers or drop-shipping companies that will produce your merchandise as guests order it, so you don't have to worry about fulfillment.
Upgrades
VIP access, skip-the-line passes, and even product bundles. There are lots of ways that guests can "plus" their experience at your event. At least, there can be if you offer them.
Rather than offering one single ticket type, consider a base ticket that gives guest standard entry to your event along with other admission options for those who want to splurge. Maybe there's a dedicated VIP area with seating closer to the entertainment or more luxurious amenities (maybe upgraded food and beverage options?). If you have multiple attractions that typically require a wait in line, give your guests the option to skip the wait if they pay a little extra.
It's actually the best of both worlds: upgrades keep your base ticket price affordable and give guests the power to customize their experience. Plus, it give you more opportunities to increase revenue.
Upsells
What's the difference between an upgrade and an upsell? It's all about when you offer it.
The checkout process is an excellent time to offer guests an upgrade or add-on because they're already in a spending mindset. And it's when they're filled with anticipation and excitement about your event.
Think about the last time you ordered food online. You were probably asked if you'd like to add on a drink or a bag of chips before checking out, right? That's an upsell, and it can work exactly the same way when guests buy tickets for your event.
Merchandise upsells are a popular option ("would you like to add a t-shirt to your order?"), but there are tons of possibilities when creating an upsell for your event. You could even invite guests to donate to a nonprofit associated with your event.
You can also include food & drink packages as an upsell: allow guests to pre-purchase their concessions, then redeem it when they arrive. It saves them from having to pull out their credit card every time they want a snack, and it gives you more revenue up front so you can cover your costs.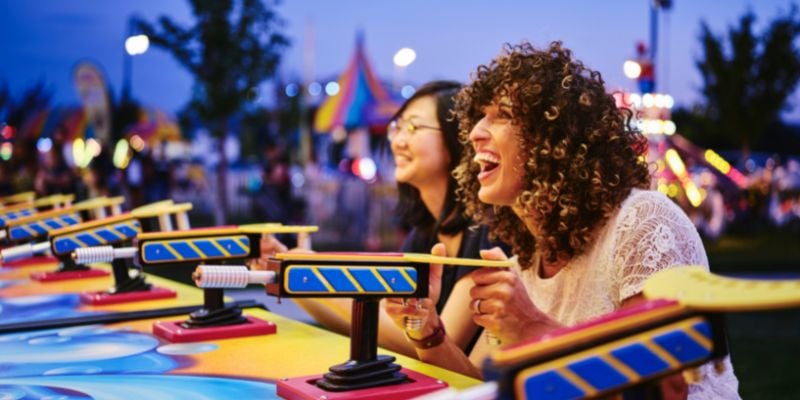 Add-On Experiences
Midway games, virtual access, an escape room. Add-on experiences are a great way for guests to round out their experience at your event. For those who don't have to have downtime in between attractions or who want to extend their time at your venue, these can be another great way to allow guests to customize their experience.
But they can also be very lucrative for you. Add-on experiences typically cost less than the general admission ticket price, but because they seem like a bargain in comparison, it's easy for guests to add on multiple extras without feeling like they're spending a lot.
Add-on experiences can be sold as stand-alone tickets, bundled together, or as an upsell in the checkout process.
Final Thoughts
While ticket sales might be the main way your event generates revenue, there are lots of different strategies you can incorporate to boost your total income. Whether you add on just one of these ideas or all six of them, introducing new revenue streams will help you grow your business and be more sustainable in the long run.
Passage supports all of the revenue-generating strategies mentioned above, and in fact, events that use our platform for at least two years more than DOUBLE their revenue. Schedule a demo with one of our event experts to see our revenue-doubling technology in action.