A lot of event producers have been asking us for help finding new ways to engage their followers and to build loyalty with their fans.
Particularly as the metaverse expands, and consumers are seeking more ways to bridge physical and digital experiences, event producers are looking for ways they, too, can launch into the new digital world.
We're excited to officially announce the launch of Passage's Digital NFT Collectibles.
These digital collectibles can be created by event organizers on the Passage platform. Any event can now create (or "mint") its own NFTs and sell them to fans. What's really special about the Passage Digital Collectibles is that event owners can create NFTs that represent rare digital or physical items such as limited edition art, special access to in-person or virtual events, exclusive deals and perks, membership in fan clubs, or early access to products or tickets. They may also represent intangible items such as special moments or digital media.
You can actually add value for fans, giving them a reason to purchase, share, and even trade and collect. The people who love your events can own a piece of those experiences.
Back Up. What are NFTs?
NFT stands for Non-Fungible Token. Each NFT is completely unique (that's the "fungible" part), like a one-of-a-kind digital trading card. An NFT is created, or "minted," and becomes a digital asset that can be owned by only one person or entity at a time. Each "token" lives on a blockchain and can be traded or re-sold after they're initially purchased!
Check out the video below for more details on NFTs and the Passage Digital Collectibles.
Simple to Create and to Purchase
Unfortunately, NFTs have traditionally been difficult to create and purchase, because they require special "blockchain" wallets, cryptocurrency, and complicated "minting" (creation) processes. With Passage's Digital Collectibles, though, an event organizer with zero blockchain knowledge can create a digital collectible in seconds and sell it to a fan with zero blockchain knowledge. All they need is an email address and a credit card!
Setup in 60 Seconds

Zero Cost Minting (Creation)

No Outside Blockchain Wallet or Software Required

Fans Can Purchase with Credit/Debit Card (No Cryptocurrency Needed!)
Added Value to Fans
NFTs have also traditionally been lacking in use-cases. While limited edition art can be cool, adding value for your fans can mean greater revenue for your event. Passage enables event organizers to create Digital Collectibles that are MORE than just an image or video clip.
With Passage Digital Collectibles, event organizers can allow purchasers to enter special areas of an event, view a purchaser-only video, access a private virtual event, and much more to add value and generate more revenue.
Limited Edition: Set the Number You Want to Sell!
Up to 500MB of Secret Assets (Text, Images, GIFs, Video Clips).

Can only be seen after purchasing!

Special Access to VIP Areas of Events.
Owners-Only Access to Virtual Events.
Great for meet-and-greets with coaches/players, special musical performances, and more.
Access to Special "Super Fan" Sales/Discounts.
Purchasers Can Transfer and Resell or Trade on NFT Marketplaces Such as OpenSea.
Launch Partners
The new Passage Digital NFT Collectibles have a variety of launch partners including a Hollywood performing artist and a league-championship soccer team. We're thrilled to introduce one of our launch partners, Dangerous Pinups, and well as Passage's own line of NFT collectibles below.
Dangerous Pinups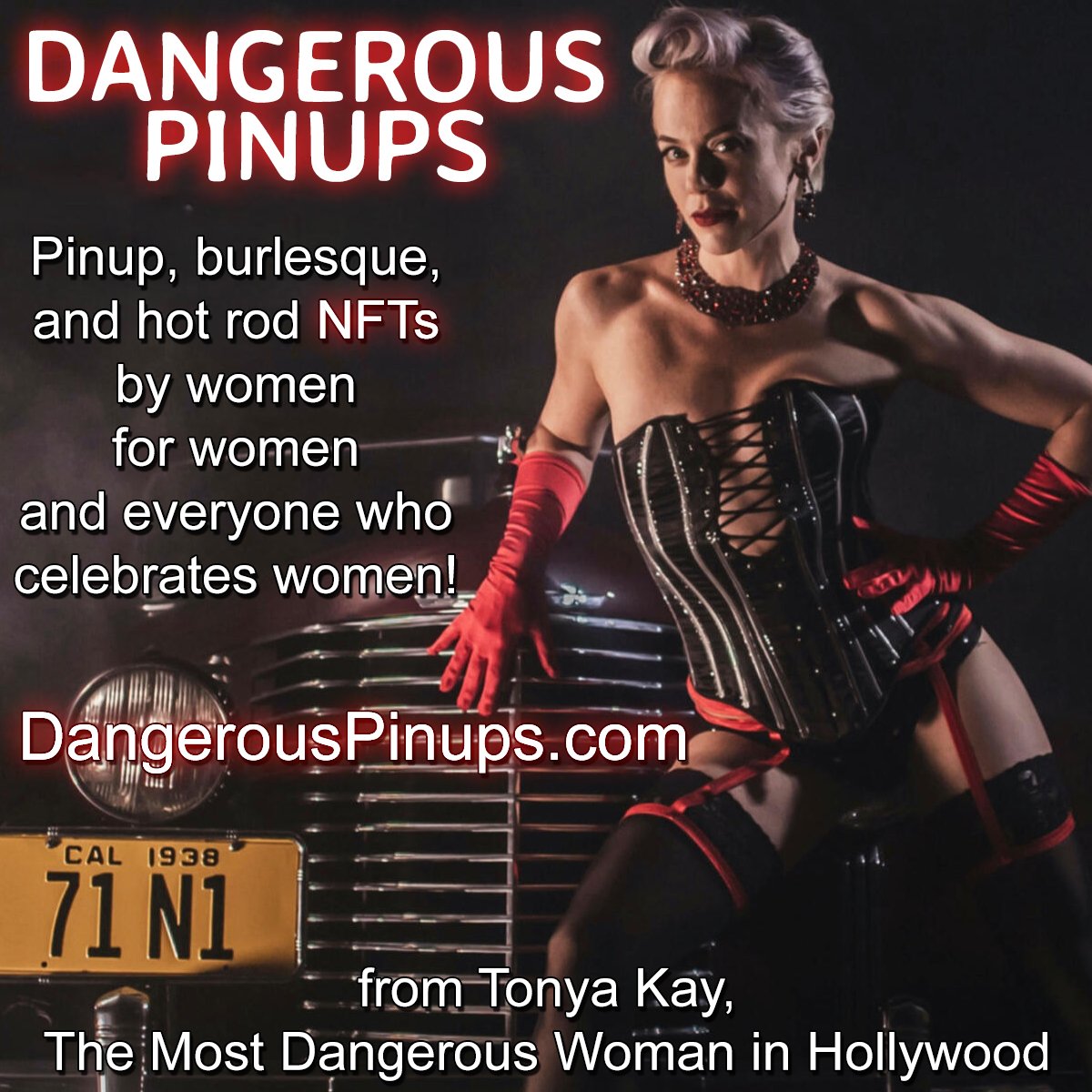 Pinup, Burlesque and Hot Rod NFTs by women, for women and every one who celebrates women!
Burlesque headliner, pinup model and classic car greaser, Tonya Kay, is launching a female-driven NFT collection, Dangerous Pinups, with accompanying live, cheeky events.
She's bringing her success as the creator and producer of Tonya Kay's Pinup Pole Show and Classic Car Cruise-in to an exclusive NFT collection featuring generative pinup artwork, classic car photography and authentic burlesque films promoting body positivity, cruelty-free beauty, breast cancer awareness, female empowerment and automotive history preservation.
The Dangerous Pinups utility includes VIP entry to show stopping professional stage and film events open only to NFT holders with a percentage of proceeds donated to expanding treatment options for breast cancer patients.
Can you believe fewer than 15% of NFT collections are female-led?! The Dangerous Pinups NFTs celebrate female sensuality through the eyes of women and honor women's integral role in preserving automotive history through flirty, fun pinups and classic car media. All Dangerous Pinups collections (available for purchase using crypto OR credit card) include generative pinup art by female artist Monica Kay Ferroe, hot rod and boudoir photography and burlesque films from a female director.
Join them for a free NFT Collecting for Beginners virtual class where Tonya Kay will be announcing the Dangerous Pinups fllm/tv utility! RSVP at dangerouspinups.com.
Zombie Buddies
"Zombie Buddies" is our own collection of Digital NFT Collectibles that can each be redeemed for a real-life Zombie Buddy figurine!
Each Zombie Buddy figurine has been hand assembled and painted by renowned horror artist Julie Whitfield to create a truly one-of-a-kind piece. Since each figuring is one-of-a-kind, an NFT can only be redeemed once. To redeem, email zombiebuddies@hauntpay.com with your proof of ownership.
Interested in Passage Collectibles?
Leave your contact info in the form below and we'll keep you up-to-date as we work with event organizers around the world to launch new digital collectibles. Or click the image to visit our NFT web page with more information.

Interested in launching your own digital collectibles? Just click the "I'm Interested in Beta Testing Passage Collectibles" checkbox and our team will reach out with details.