The Passage Manager App is the best way to manage your event on-the-go or at your venue. You can even add free employee accounts so your staff can scan and manage tickets without sharing passwords.
Whether you've just joined Passage and want to get started selling tickets to your event, or you're a seasoned pro, this crash course guide will answer all of your questions and help you get the most out of our app.
The Basics
Where is the Passage Manager App and how can I download it?
Search "Passage Manager" in either the Google Play Store or Apple App Store, it should show up as the first option. It's important to note that this app doesn't allow you to create or change your events, only manage them. You'll have to set up all the details within the Passage admin area.
What Can I Do With the App?
The Passage Manager App is your all-in-one go to for sales and fan check-in. One you've set up your event through the admin area, you can manage sales and tickets from any device through the app. It's a huge time saver and allows you to be 100% mobile.
How do I Scan Tickets at the Door?
The Passage Manager app is available on multiple devices so you have the ability to scan your fans' tickets on your (or your staff's) phone or tablet. We wanted to make it as easy as possible for you and your staff to scan your fans' tickets efficiently. All you need is the QR code ticket they were sent or you can look up their tickets by their last name.
Don't worry, it's a super simple process. Here's a step-by-step YouTube tutorial you can watch on how to scan tickets on your device:
How do I Add Employees to the Venue?
At this point, you've probably got your app set up and you're ready to get those tickets scanned. You don't want to have to handle it all by yourself, we get it. We created a way for you to add your staff to the app so that they can each have access to your venue on their devices and you don't have to worry about handling everything yourself (at least in this instance).
The easiest way to accomplish this goal is to create a 'catch all' employee account (ex: sales@____.com) that all your employees will have access to and can be used on multiple devices simultaneously. Otherwise, you can create an employee account for each staff member who needs one, there are no limits on the number of accounts you can have. As the administrator, you can limit their abilities within the app and restrict them to 'scan only' if you don't want them to be able to see reporting or event creation information. Here's a simple document to help with that.
Once you've granted your employees access to your event, they'll need to set up their account:
Passage Manager App Features
We pride ourselves on creating an all-in-one platform so that you don't have to worry about juggling multiple platforms for your event. In an effort to achieve this, we added features to the platform itself as well as the Passage Manager App that allow you to sell merchandise, tickets, bundles, and concessions all within one app.
Selling Merchandise and Concessions
Within the app, we've built in the ability for your team to handle merchandise and concessions to your fans. You can download the Passage Manager App onto your POS system and make sales directly from there. Make sure that "Enable Square POS" is enabled within the "Settings" tab on the manager. From there, you'll need to upload all your merchandise and products into your event from your Admin account on our website.
Bluetooth Reader
Your venue will be provided with one FREE bluetooth mobile credit card reader which will allow you to use Passage to sell tickets, merchandise, and even concessions at-the-door and online! We'll do all the work and send it directly to you so you can get started with ease.
To order your FREE card reader, reach out to our support team to see if you're eligible for a free card reader and they'll get you all set up! Once you've received your Bluetooth Card Reader, you'll have to set it up and integrate it with your device which acts as your POS system.
Here's a helpful guide on setting up your bluetooth card reader once you receive it.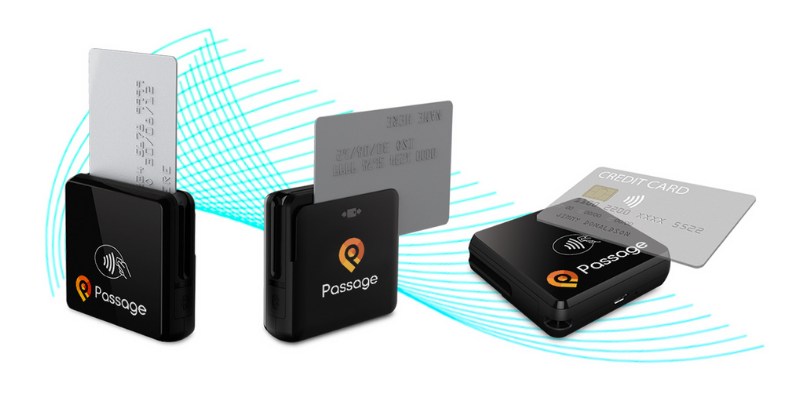 POS Compatibility
The Passage Manager app allows your device to act as your POS system, with Square or Stripe integration and our complimentary chip reader, you won't have any need for a POS system.
Bundle Sales
Bundles allow you to sell a group of tickets and products together for a single price. Bundle sales have plenty of use cases and make it a lot easier for your customers to get everything they want all at once. You can easily set up bundles within the Passage admin area and they will show up on your Passage Manager App when checking out fans.
Still Have Unanswered Questions?
For any other questions you may have about using the Passage Manager App, here's a collection of guides we've created for you.
Not Using Passage Already?
If you're not already using our platform, schedule a demo today with our amazing event team and learn how we can help you sell more tickets and make more money. You've read through some of our platform's features but there's plenty more where those came from!