Some are calling it the 'new bowling'. If you've never been axe throwing before, you're going to want to book an appointment before the end of this blog.
With over 60 axe throwing locations popping up across the country, the industry is seeing a rapid increase in demand. One of those leading axe throwing's meteoric rise in popularity is Houston Axe, who happens to be a Passage client.
We had an amazing conversation with Sarah Sed, one of the owners of Houston Axe, and learned how they broke into this niche industry, how they adapt to changes in customer expectations & preferences, and how they managed to not only survive but thrive during a global pandemic.
Axes Are Friends Not Foes
What is axe throwing exactly? At its core, it's a target sport. You stand behind a line that is 10-12 feet from your target, and score points by hitting as close to the center mark as possible. But instead of throwing a dart, you're wielding a real wood-splitting axe.
It's a huge adrenaline rush. And it's a popular activity for birthdays, bachelor parties, corporate events, and date nights. Axe throwing businesses typically allow guests to book "lanes" that are separated from other parties by walls or fences. From there, the setup varies: some are outdoor locations, others indoors. Some businesses have big warehouses stacked with multiple lanes, while others are small retail spaces with just a few lanes available. And the theme or decor is up to the imagination of the owners. What they all have in common is a growing demand for more axe throwing in cities and towns across the U.S.
Here's a little background on Houston Axe:
They launched in 2017 after a whirlwind opening
They have two locations in Bellaire and Katy, Texas; Sarah Sed is also an owner and partner in two additional axe throwing businesses
They offer both fully-guided and semi-guided sessions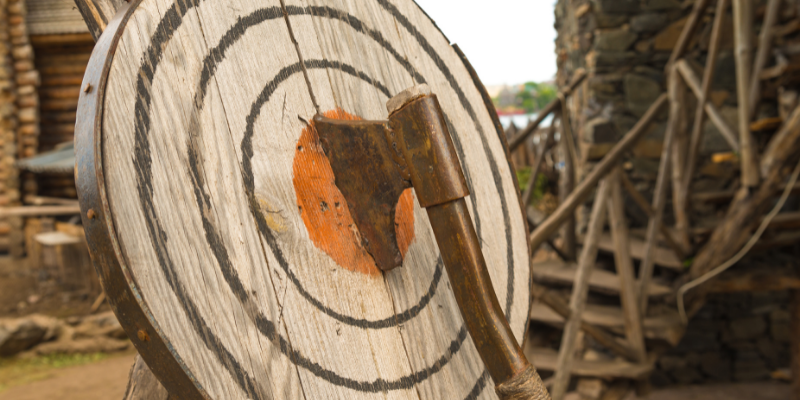 "We only tried it once"
When Houston Axe launched, there were only two other axe throwing locations in the country. According to Sarah, they had a business partner who was involved in their escape room business who went to a conference in Canada where axe throwing is a much larger enterprise and market. He loved the activity and flew Sarah and several others out to one of the two locations in the US at the time - in Philadelphia, PA. It had only been open for three to six months but everyone had a blast and they decided to open their own axe throwing business in Houston, TX a few months later.
At the end of the session, they typically do a tournament focused on league-style throwing and Sarah joked that, "if [she] won the little tournament [she'd] have to open up a place." Then she promptly won the tournament, enjoyed the activity, could see the vision of her business partner, and flew home to Texas to open her own location only three months later.
Surviving and Adapting to the Pandemic
According to Sarah, "With COVID, we really listened to people and what they were saying." Their goal was to glean information from their staff and customers to adapt their business to their needs and wants. This meant the introduction of semi-guided sessions, private groups instead of public ones, fully guided sessions by request, and the option of an add-on coach (if one was available) at the front desk.
Sarah said, "We decided with the staff that we had that they would feel more comfortable doing semi-guided sessions…and this would limit their dedicated exposure and they could wander around a lot more." So, rather than having a coach stay with a single group through their whole session, they give them the necessary information and training and then wander around to each group and help where they are needed.
Pre-COVID everyone would sign up for a time slot and the groups would be public. This was great for customers since they could interact with others and have an enjoyable time even if they didn't know anyone in their group going into the session. For safety reasons, Houston Axe changed their groups to private so that everyone could have more control over who they were in close contact with.
The COVID-19 pandemic has changed countless businesses permanently and changed the way they operate. Houston Axe has had some impressive growth.
We are so impressed with Houston Axe's ability to listen to both their customers and team members to find a compromise that allows everyone to feel comfortable and happy with the way the business operates.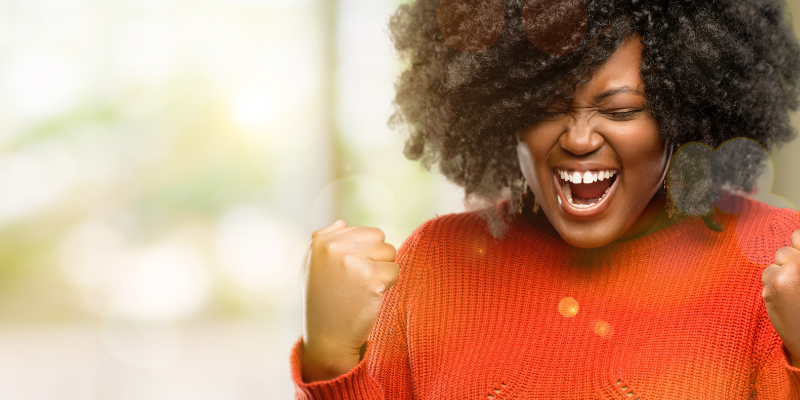 Keys to Success - Flexibility and Listening
Getting customer feedback
Considering what bugs customers are reporting and making necessary adjustments
Talking to the community
Giving team members a voice
It's all about being flexible and willing to make changes that will make the company more effective and the customers happy. Not only that, listening to your team members is a crucial and essential part of creating a successful brand. Business owners can't be expected to think of every little thing or notice every detail, which is why having other people to give feedback and present ideas can be so beneficial.
Some of Houston Axe's success can also be contributed to their involvement with the World Axe Throwing League (WATL for short). WATL exists to promote axe throwing and standardize the sport by creating official rules, safety protocols, staff training, and more. This was another area where Sarah found support and aid in her business.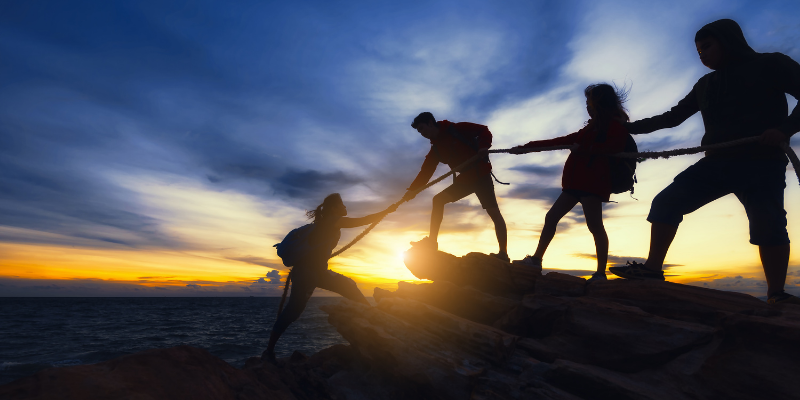 Facing Challenges Head On
"We were very lucky our business partner was very involved in getting it off the ground. He spent hours calling insurance companies all over the country until he finally found one who would insure us." Some of the other challenges were: finding a landlord to take a chance on them, learning the sport, becoming members of the community, and setting up our environment for success.
Because they were new to the industry and it wasn't a popularized thing yet, some of the greatest challenges were just in running the business. Learning how to teach people to throw axes, training team members, watching lots of YouTube videos, and not having a large community of other axe throwing business owners to go to for help.
Probably their greatest challenge/hurdle was that weeks after opening, Hurricane Harvey hit Houston and flooded the city. Sarah said, "just as we were starting to get traction from the media and people coming out to see things, everything kind of died quickly. It was hard to lose a lot of the traction but also we were very lucky that our facility didn't flood.
The Appeal of Axe Throwing
"I think it's popular because it's cathartic. Nobody really learns a new sport as they get older but axe throwing is something that people can do and pick up. People are excited to try it, it's a little dangerous, and it's also a good stress reliever at the same time."
If you've been axe throwing before you know how satisfying the thud of the axe hitting the target is. How good it feels to land that throw and master the technique. Often as satisfying as knocking down the pins in bowling, just without quite so much noise.

Choosing the Right Ticketing Provider
"We were looking for something more robust, what we were using wasn't working for us anymore. Then we saw Passage at a conference and thought it would be great to get in on the ground floor of a new company. At the time, Passage didn't have a lot of other clients and would take our feedback and focus on any issues we brought to you. You still do that. We also liked the dedicated customer service that came along with that."

Here at Passage, we always strive to develop and create the best platform possible for our clients. Providing great customer service is a large piece of that puzzle.
Ready to set up an excellent ticketing experience for your guests and work with our amazing team? Schedule a demo to see how Passage can help!
You can find Houston Axe on social media: @houstoneaxethrowing or their website: houstonaxe.com
If you're in the Houston area, you can reserve lanes on their passage event page. They also recently opened a second location in Houston and have plans to launch a new location in San Jose, CA in the coming months.