The best things in life are free.
When it comes to events, nothing delights a guest more than free admission. Comp tickets, or complimentary tickets, are one of the most popular promotion strategies in the event industry.
Here's why: It's not just about giving away free admission willy nilly. Strategically awarding free tickets can actually help increase your revenue. There are several situations where it might make sense for you to offer comp tickets, to increase in-event spending, attract VIP guests that will bring in more ticket sales, or introduce new fans to your events.
Looking for more event promotion strategies? Click here.
When should you give away tickets?
Comp tickets can be part of a giveaway or contest, or used as part of a targeted approach to attract specific guests to your event. Here are a few situations where it might make sense for you to give away comp tickets.
1. To generate goodwill
It gives people the warm and fuzzies when you give them a free ticket to your event. It shows your community that you're a good neighbor; you're not just in this for the money. A lot of events give away tickets to youth groups, neighborhood organizations, or other partners as part of a community-engagement strategy. This can be helpful for earning positive PR and encouraging others in your area to support your events - because they know you, in turn, give back to the community.
2. To introduce new fans to your games
Someone who might not have purchased a ticket to your event might end up becoming a lifelong fan after enjoying a free sample of what you have to offer. Maybe they win a radio contest, or play on a little league team that was gifted a set of tickets. They'll have such a great time that they won't want to miss your next event.
3. To show some love to sponsors and VIPs
Many events include a set number of comp tickets in sponsorship packages. It's a great way to add value to your packages: it gives sponsors something they can offer their employees or customers as an incentive or a thank you for a job well done.
4. To fill seats on slow days
If you manage a sports team or a theater with weekly shows, this can be an especially useful strategy. Bringing in free guests on a slow day means more people at your event purchasing concessions and merchandise. For some venues, those are more profitable than the tickets themselves.
The secret to comp ticket promotions is to do it in a way that allows you to gain a positive return. It should be as valuable for you as it is for your guests who are receiving a free ticket. Even experienced event producers struggle with this. So let's look at the wrong way and the right way to execute a comp ticket promotion.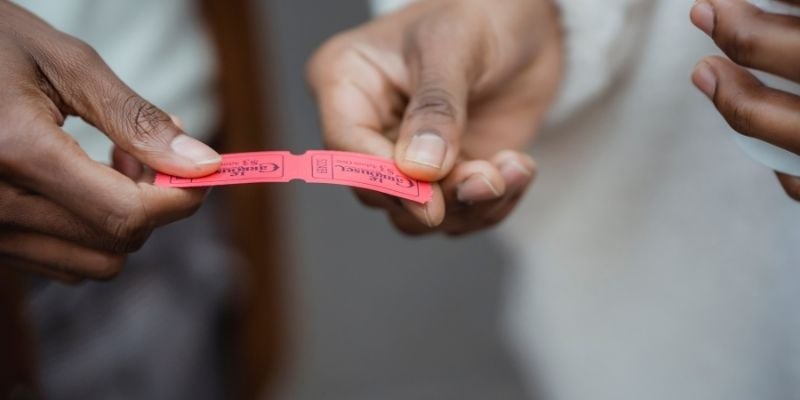 The

Wrong

Way to Do Comp Tickets
Most events will create comp tickets under the event producer's name then print and hand them out. And that's honestly an ok way to handle this: it's simple and straightforward. It gets your tickets into the hands of people who can use them.
But you end up giving something away without receiving any value in return. It's generous of you, but it's not the best marketing strategy.

The Right Way
A better plan? Find a way to capture some information about your guests who are receiving a comp ticket. Then, you can keep in touch with them and send them special offers, promotions, or other messages about your future events. Start building a relationship with them so that they'll be encouraged to attend future events (with a paid ticket, of course).
Here are a few ways you can do this:
1. Printed Flyers with Promo Code
Print flyers with a one-time use, unique promo code and instructions to check out for one free ticket or a buy-one-get-one (BOGO) offer where they purchase one ticket and receive the second free. Set a limit so that the code can only be used a specific number of times (and be sure to list on the flyer that it's limited to the first "x" number of purchases).
2. Fake Tickets
Print fake tickets with the same promo code described above. The printing costs on this strategy will be higher, but the visual impact will make the promotion more memorable.
These could be sent to local schools, youth sports programs, community organizations, and more. This tactic is useful even if you're comp-ing a set of tickets to sponsors or folks you already know. Sponsors will often give away comp tickets to employees or customers, and you'll want to capture those individuals' details so you can stay in touch with them as well - not just your contact at the sponsoring organization.
3. Email Codes
Do an entirely digital campaign, sending your promo codes out via email or posting them on social media. You could use this strategy with any advertising or promotional campaigns. For example, send the winner of that radio contest a one-time-use promo code that gives them a 100% discount on tickets for a specific date.

Final Thoughts
With any of the strategies above, the key is that you're capturing some of the guest information when giving away comp tickets. They allow the guest to get a free ticket, but they'll still need to go to your ticketing page and checkout like everyone else. The price at checkout will be $0, but they'll need to enter some basic information like a name and email address - important details that you'll need to keep in touch with them after your event.
Need help creating comp tickets or promo codes for your event? Schedule an onboarding call with our support team!