The subscription economy continues to accelerate every year, as consumers seek out greater convenience and guaranteed access to curated products and experiences.
Now, event producers can take advantage of the subscription model for events.
Subscriptions give you the power to generate more consistent revenue and build a loyal fanbase for your events. They allow you to offer an ongoing series of events to customers.
Subscriptions are excellent for things like annual passes where new events are added throughout the year, a weekly concert series, or monthly pop-up events.
Setting up your first event subscription on Passage is simple. Just follow these three steps.
Set up your event subscription
First, navigate to the subscriptions area of your Passage dashboard by hovering over "Packages" on the main menu and selecting "Subscriptions".

Next, select which Subscription Options you would like to apply to your events.
Select Allow Promo Code Usage With This Subscription if you want customers to be able to use promo codes when they first sign up (this will only apply to the first month.)
Hide Subscription Contents on Ticket — If selected, only the subscription name will appear on customer tickets. If not selected, the individual event tickets will each be listed individually.
Available For Sale – Select this option for subscription sales to be active. Deselect this option to stop future sales of the subscription.
Finally, add the items you want to include in your subscription package
Click "Add Item" next to "Subscription Event Items" to add an event ticket to the subscription.
Click "Add Product" next to "Subscription Product Items" to add a product to the subscription.
You're all set! New events can be added to the subscription at any time, and all subscriber accounts will automatically be updated with that event ticket.
Subscription customers will be billed monthly for the amount of the subscription price. You can set any price point you choose. Subscriptions can be customized to fit the format and frequency of your events. You may offer unlimited access to all events you host or allow subscribers to select a given number of events to attend within the subscription period.
Add a new event or product to your subscription
As you plan new events throughout the month or year, you'll want to add them to your subscription so that subscribers will have access to these events.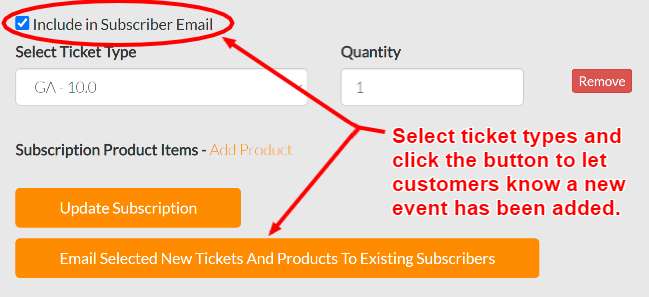 To add an event or product edit the subscription, click Add Item or Add Product, depending on which item you want to add.
Select the event and ticket type, or product/variant from the list and update the subscription. The new ticket or product will automatically be added to all subscribers' orders at that time.
You can inform subscribers of the new item after updating by selecting the "Include in Subscriber Email" checkbox for the ticket type, then clicking the button to email the selections to existing subscribers. This will email all subscription customers to notify them of the new events included in the update.
Need help setting up your event subscription? Schedule an onboarding call with our support team. We'll set everything up for you!