A hailstorm puts a damper on your outdoor festival. A water main breaks inside your venue. Your headlining artist comes down with the flu. There are lots of reasons why you might need to cancel or postpone your event. Unfortunately, some things are out of your control.

Yet, you are in control of handling your postponed event properly.

Before you panic at the thought of losing out on all ticket sales and revenue you've earned, we've gathered the three most important steps for event producers to save the day, including how to communicate with guests and what you can do to keep them happy without making hundreds (or thousands) of ticket refunds.

1. Let Your Guests Know
You can't avoid guests feeling disappointed, but you can actually make sure they won't get mad at you. It all depends on HOW you handle your event cancellation. Our best advice? Be truthful. Give guests the explanation they deserve and steer clear of any misunderstandings.

Let them know that you are managing the situation and won't leave them high and dry. Inform guests of their options, which may include exchanging their tickets for a rescheduled date, allowing them to attend a future event of their choice, or even offering them a ticket refund (we'll dive into these in a bit).
Email
The simplest way to notify your guests that your event was postponed or canceled is by sending an email notification. Here's what you should include:
An apology: Be sincere and make them feel like you are on the same team (which you are!). Guests are the main ones affected, but event producers and their staff are also disappointed.

Why your event was postponed/cancelled: Explain to your guests what happened. If it's a weather issue like a storm, let them know that the event cancellation is the best thing to keep everyone safe. If it's a problem related to the venue or the performers, make sure to explain what's going on.

Has your event been rescheduled already?: Inform guests of the date & time. Check the confirmed information before announcing it because it can be discouraging for them to face another postponed event. It can be nice to include a message like "We hope you will be able to attend".

An email address: This is super important, so guests know how to contact you if they need their questions to be answered or if they have further doubts.
Through your Passage account, you can send your event postponement announcement. From your Manage Events page, click the Select an Option dropdown menu for your postponed event, then select Email Attendees. This will allow you to compose the email and send it to all upcoming event times or select specific event times to notify (i.e. an update specific to just one date).
Note: you can currently only bulk email event attendees to events that have not yet ended.
Website
To ensure every guest knows about your event being postponed, update your website and/or ticketing page with the corresponding information. Make sure the announcement is visible and easy to access. People may use your website as a source of information, so try to keep it up to date with the latest news about your postponed event or anything relevant to it (weather forecasts, health measures, etc.)
Social Media
You may also want to update your social media pages and include a link to your website where guests can find more information about their options or remind them to check their email for details.
Another super helpful thing to do is create social media posts based on FAQs about your postponed event or cancellation to clear up any confusion.
Be open to answering any questions; many users might send you an inbox or comment on one of your posts looking for specific answers, so be ready to get back to them with a timely reply.
Whichever channel you choose, give your guests as much notice as you can, understanding that sometimes last-minute event cancellations can't be helped.

If you communicate everything correctly, there's nothing to worry about. A postponed event will not damage your reputation! If you are transparent and helpful, guests will still want to go to your rescheduled event and even get tickets for your upcoming ones.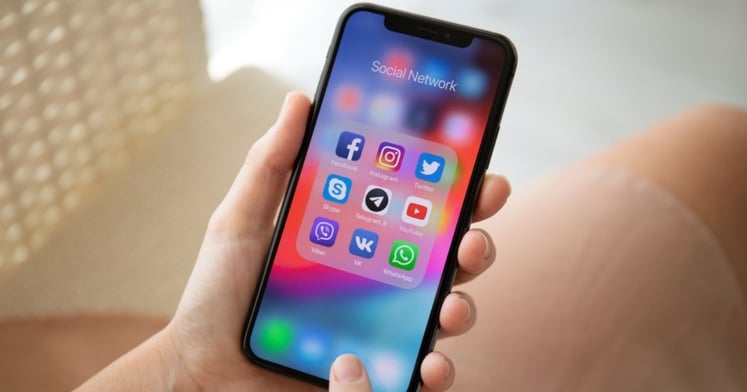 2. Reschedule Tickets
Rather than immediately jumping to refund all your guests' tickets, consider whether exchanging their tickets would make everyone happier. Your Passage account makes it simple to edit a customer's order so that their tickets can be used when your event is rescheduled.
Within our ticketing software, you can modify one (or any combination) of these things:
Switch the event

Change the ticket type

Adjust the date & time
You may access this page from your Transactions Report by clicking on the individual transaction ID number in the first column. You can also quickly access it from your Upcoming Events page by clicking the View Guest List button, then the transaction ID number in your customer's information, and finally View Transaction to jump into the customer's transaction details.

Once you are looking at your customer's order, click the edit icon next to the individual ticket to change just one, or click the edit icon next to "Associated Tickets" to change the entire order at the same time. Next, select the new event, ticket type, and timeslot to assign, then click the checkmark to finalize the changes. The ticket(s) will be automatically updated in the system.
Take Advantage of Our Concierge Support
You don't have to do it alone! You'll have a lot of logistical issues to handle when your event is postponed. We are experts in event ticketing, so you can let our team handle the ticket changes, and you can focus on staffing, working with the venue, and entertainment.
3. Do You Have to Refund?
There may be some cases when you decide you need to issue a ticket refund to some (or all) guests. But it doesn't have to be your first and only option.
Establish a Refund Policy and Make it Very Clear to Your Guests Up Front
We strongly suggest you stick with the default "All Sales Final; No Refunds or Returns" policy, though you're welcome to edit that policy as you like in your venue settings. With that said, we realize that sometimes extenuating circumstances come up, and you'll need to give a ticket refund or two. This depends on your business and the nature of the situation.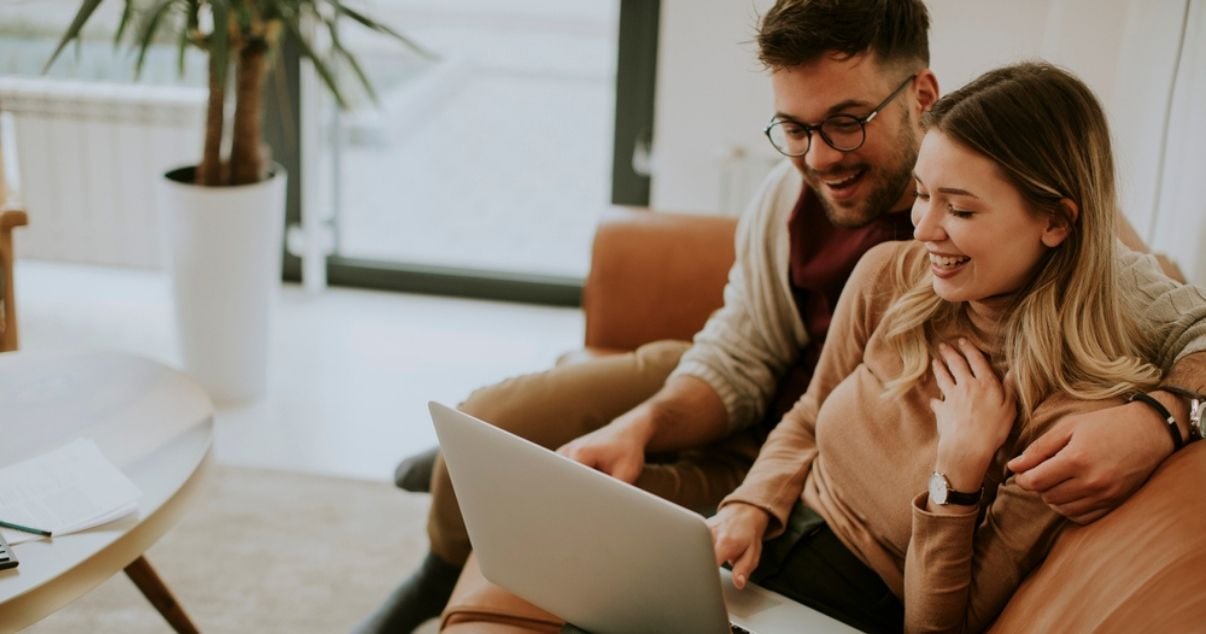 Look for Non-Refund Remedies First
If your event is postponed, there are plenty of ways to keep guests happy without issuing a full refund. The two most popular remedies are:
Exchange for the rescheduled date. As we've explained above, once your event is rescheduled, you can change all tickets to be valid on the new date within Passage's ticketing software. By doing this, guests will realize that, despite the event being postponed, they aren't going to lose any money.

Exchange for a future event of their choice (at a similar price). If you host multiple events throughout the week or every month, allow your guests to choose a date that suits them. You can do this by authorizing our team to change customer tickets when they contact support (through chat, email, or phone) or by providing guests with a promo code that covers the price of your original ticket.
If you want to make your guests feel special and lessen the sting of an event cancellation, there are some low-cost things you can offer in addition to exchanging their tickets, such as:
Discount for other upcoming events

Free product

Free concession item
Offering something free isn't necessary in all cases. For example, simply rescheduling may be sufficient if your event is hosted regularly. On the other hand, if it's a once-in-a-lifetime special occurrence, you might want to consider some extra perks for your guests.
Bend the Rules as Needed, on a Case-By-Case Basis
Occasionally, you may encounter guests who cannot attend on the rescheduled date. And it's a shame, but here's when you need to give them their money back.
The options to refund a customer's purchase are available in their transaction details. You can use the Transactions Report filters to quickly locate their transaction by the last four digits on the card used to purchase, their name, or the date and amount of their purchase.


Then click their ID number (first column) to go into their transaction details. Another option is to look up the customer by name or email address in the
Upcoming Events
guest list, click their transaction ID number, then
View Transaction
to go into their details.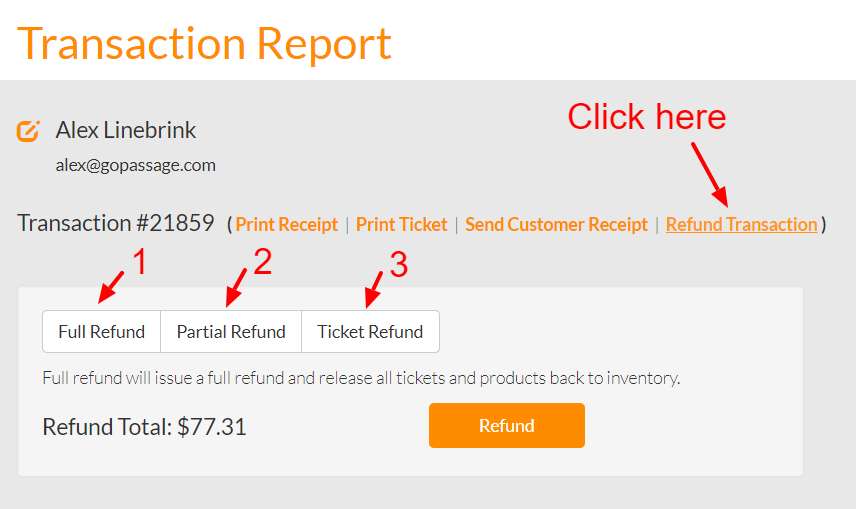 Once in their transaction details, there are four options next to the transaction number: Print Receipt | Print Ticket | Send Customer Receipt | Refund Transaction. Clicking Refund Transaction will present three options for a refund:
Full Refund – Issue a 100% refund for the entire order and void all tickets and products included.

Partial Refund – Manually enter an amount to refund. The status of tickets and products will not be updated.

Ticket Refund – Select individual tickets or products from the order to refund (multiple items can be selected). Tickets or products that are refunded this way will also be voided.
When a refund is complete, we don't send anything to the customer by default. You may want to let the customer know that the ticket refund is done, and the funds will hit their account within a few business days. You can also click Send Customer Receipt on the same transaction details page to send a new receipt to the customer showing the refund line item.
Now, you have the tools to handle a postponed event like a pro. If you've been hosting events for a while, you know the types of obstacles event producers have to face. The key is learning how to overcome them. You might have faced an event cancellation today, but everything will work out next time.
You can start creating your future event and, if you need any help, schedule an onboarding session with our support team.
If you want to learn more about event management and how to plan your next event, download our Event Organization Checklist for free: