One of the biggest things we see events of all sizes struggle with is finding new customers and new ways to drive revenue. A business needs to make more money year after year to stay alive.
Of course, you can always make more money by charging more for your tickets. But that can backfire: raise prices too high and you'll risk losing some of your returning customers. If you're an experienced event producer you probably already know that you don't have to rely entirely on individual ticket sales to make money on your event. Food and beverage sales, merchandise, VIP passes, and other upgraded experiences can all bring in more revenue.
But there's a secret moneymaker that many events don't take advantage of; it's one of the most underutilized revenue streams in the business.
I'm talking about sponsorships.
Businesses sponsor events as a way to build positive brand recognition in the community. Basically, a business gives you money and you in return provide them with exposure to potential customers.
The most common reaction I get when I suggest this to our clients is:

Well, eyeballs, for starters. Events have the advantage of a captive audience. You can both entertain and market to your guests simultaneously.
For popular, well-established events, sponsorships can be a lucrative business because big crowds means more exposure. For new events that are just starting up, this can be a good way to cover some of your initial startup costs while helping other businesses get in front of new potential customers.
We'll get into the details of what a sponsorship package includes in just a bit, but here are the main benefits to businesses who sponsor your event.
1. Building brand awareness
You can help them reach new customers. People travel from all across their local region to attend events that interest them. You can help introduce them to businesses in the area, where they could shop, dine, or otherwise patronize on their visit.
2. Increasing Sales Numbers
Businesses who offer a discount or special deal for your attendees can drive more traffic through their doors and increase their sales.
3. Improving Brand Image
People generally attend events to have fun or to experience activities or entertainment they enjoy. They have positive associations with your event, and by aligning themselves with your brand a business can capitalize on the goodwill you've already built.
The Sponsorship Collective has a great article on what benefits are most important to sponsors and how to calculate the value of your sponsorship package. Check it out here.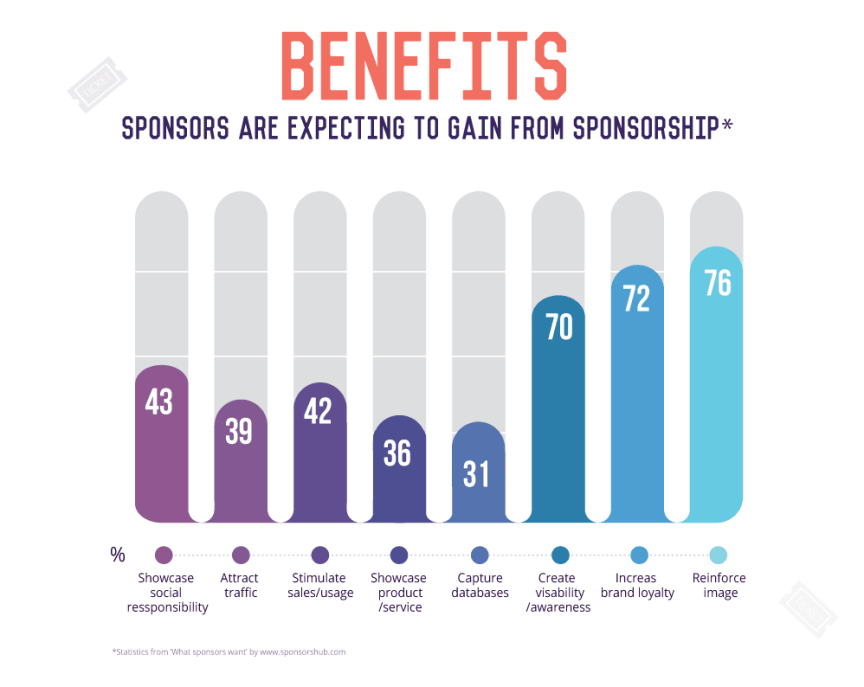 There are a number of things you can include in a sponsorship package to make it attractive. Standard packages include benefits like:
Banners with supporters' names or logos.
Emails sent to attendees before or after the event. This is one of my favorites because it costs you nothing. It's completely digital. But it can reach a large audience if you have a decent email list.
Printing their name and message on every ticket you sell. Encourage sponsors to get creative with their message, or offer discounts or special deals to guests who show their tickets from your event.
If you're using Passage, you can easily add a sponsored message to every digital and printed ticket you sell. And change those images as often as you like; they'll update live on the very next ticket sale. Here's more information on how to do that.
As your event grows, so will the exposure a sponsorship package brings. As attendance increases, you can increase the cost of sponsorship or introduce higher-dollar advertising packages.

Don't be afraid to think outside the box and get creative with your sponsorship options. Some businesses might be looking for ways they can sponsor specific guests experiences rather than just traditional advertising. For example:
Concessions: the sponsors cover the up-front cost of food and drink items, and you include signage at the bar and/or food stations.
Photography: put their logo on digital photos taken professionally at your event.
Merchandise: print their logo printed on the back of t-shirts or really anything else you're selling at your event. This can even include items given to guests for free, such as cups or glasses for beverage samples.

Think about the places you frequent yourself or businesses in close proximity to your event. The restaurant across the street might be the perfect sponsor: if guests see their information on your tickets or signage at the event, they could stop by for dinner before or after their visit.
If you're in a more remote location, consider the typical route guests make when they travel to your event. Maybe there's a gas station near the highway that wants people to stop in for coffee and fuel before they head home.
It's also important to think about your typical guest's experience, and what sponsored businesses might truly be relevant for them.
Let's say you have an outdoor festival: would guests appreciate a dedicated tent where they could get out of the sun or recharge their devices? Or maybe an infused water station to recharge their own batteries? Those are beneficial to your customers, but also to your sponsors: they have an opportunity to interact directly with guests.

Before you contact a potential sponsor, do some research so you can provide an explanation for why this business in particular would be a good partner. Bring a printed sponsorship package to review with them during your meeting. It doesn't have to be a thick booklet with charts and jargon. One sheet with the benefits, attendance numbers, the location of possible ads, and sponsorship levels will get you started.
Then, you have to be brave. Make the ask. Be confident in what you have to offer and the value you bring to the table.
Good luck, and happy planning!