Good on Paper Improv was assembled in 2010 by a group of performers looking to bring "Big City" improvised comedy to the Traverse City area. This six-person troupe performs 90 minutes of short form improv games that resemble the format of Whose Line Is It, Anyway?. Founder and host of this highly energetic and completely interactive show, David Avis, says, "No two shows are the same." David's passion for improv comedy is evident by the care, confidence, and attention to detail he exudes through each show. In this interview, he shares how the Good On Paper team engages their audience and keeps their creativity on point, while expanding the Traverse City comedy scene.
1. Could you tell me about the basics of Good On Paper's show?
It's a fast pace show and there's lot of audience interaction. We perform on the second Saturday of every month at the InsideOut Gallery in Traverse City and make ourselves available for private gigs whenever possible. We've also performed for the past three years in the Traverse City Comedy Arts Festival. The troupe has been together for six years in total. Besides myself, the cast includes Stephanie Young, Heather Marie, Mike Gauthier, Bryan Boettcher and Michael Libby.
2. What do you feel makes your show stand out?
To my knowledge, we're the only professional improv group north of Grand Rapids. So, we have a rare and wonderful opportunity to fashion the show around what we think would be funny and what our audience has responded well to without worrying about what other local improv groups we'll be compared to. If a cast member wants to try out a new idea for an improv game, writes a new sketch idea, or we want to tweak some aspect of the show's format, we'll give those a shot. It frees us creatively to take chances we might not otherwise take if we thought, "that's too similar to the such-and-such group down the street."
We also strive to get the audience involved in the energy of our show as much as possible. The show offers quite a few opportunities to bring audience volunteers onstage, and we've made it a point to include local celebrity guest stars in some of the shows throughout the season. Good on Paper has been lucky enough to have a very loyal fan base that follows us to every new venue. At every show, we have fans who are excited to tell us how many "newbies" they brought with them that night. The audience is basically our seventh cast member.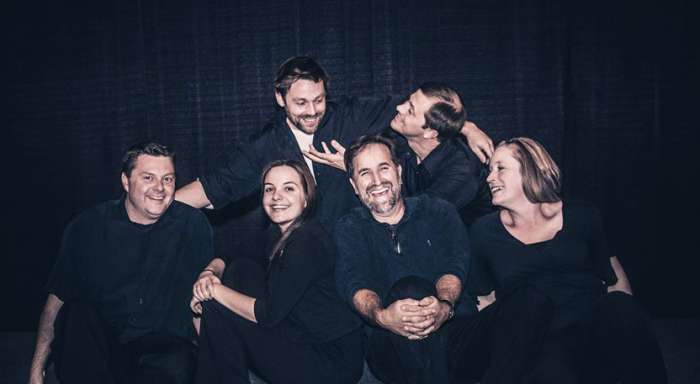 We've had so many fans point out to us over the years how different every one of our cast members is from each other and how much depth that adds to the show. It's something that happened organically but has worked very well for us. It's like finding six different puzzle pieces that make up a complete picture. We work well together as a group and it helps that we all like and respect each other. Even on the rare occasion there's a creative difference on how to approach some aspect of the show, we've always been flexible and respectful enough to come up with a solution.
A crucial part of the show is what we affectionately call the "Can O' Words". We put pens and slips of paper out on the tables and encourage audience members to submit random sentences and phrases for us to pull out randomly during the show. Many of the scenes start with lines from the Can O' Words. People will often show up early to the show just to make sure they have time to submit whatever crazy sentences they've been thinking about all week. It's always fun to see someone's genuine excitement when his or her line is used. The people whose lines don't happen to get randomly used are often just as vocal!
3. What is your favorite part about performing improv comedy?
The idea that a group of performers can start with nothing but a piece of information from the audience and their own creativity, yet end up creating something much bigger than the sum of its parts is absolutely fascinating to me.
My experience with improv has always been that the more the performers that get to the basic elements of personal interaction (sincerely listening, reacting honestly, abandoning preconceptions, sharing the scene, focusing only on what is happening at that given moment), the more compelling and interesting the story is that we're able to create. Whenever we feel like what we're creating is getting too complicated, we simply refocus our energy on each other and on those basics. Improvising with those basics is like finding characters and situations that already existed… they just needed to be discovered. It feels like magic.
4. What is your favorite thing about being part of the comedy community?
The comedy scene in Northern Michigan is still in its infancy so we're very happy to be a part of bringing attention to the comedic talent our area has to offer. Our local stand-up comedy is just now coming into its own as well with the help of an enthusiastic network of local comedians and the attention brought to us by the Traverse City Winter Comedy Arts Festival for the past few winters. Comedians do come through Traverse City quite often but growing the comedy scene right here is uncharted territory to a large degree. It has been inspiring to see just how helpful everyone here has been in promoting each other. It helps the comedy community as a whole to show residents that there is plenty of talent worth discovering right here.
Even though our specific improv show format is more locally geared to Northern Michigan, our cast members are personally interested in what's going on in the larger world of comedy. Our personal frames of reference are places like Second City in Chicago and Toronto, UCB Theaters in NYC, and Go! Comedy in Ferndale. We don't necessarily want to copy what those theaters are doing, but we do try to emulate their commitments to always taking chances and getting better at the art of improvising. We've always found the improv community to be quite welcoming and helpful.
5. What special considerations go into planning your shows?
A typical show will include anywhere from 15 to 20 different improvised scenes all based off of audience suggestions. For some shows, particularly the Traverse City Winter Comedy Arts Festival shows, we'll work together for a few weeks in advance on writing short sketches. I do a lot of the promotion and bookings for the individual shows, but the shows themselves are organized and developed pretty democratically as a group. It helps that we have always shared a common perspective on the direction and goals of the group. The time between shows is spent talking as a group about what worked at previous shows, what things we could work on for future shows, which new games we tried that should be kept, changed or dropped, etc.. About a week before each performance, I put together a list of games for the next show, and the cast offers feedback or suggestions to fine-tune how the eventual performance will flow.
6. How do you engage and interact with the surrounding community?
We try to stay as available as we can as much as possible both in person and on social media. A lot of our interactions with audience members happen on our Facebook page. On performance nights, we're typically right at the door welcoming people or walking around chatting with the audience. We always hated the idea of sitting in some backstage area somewhere until the lights go up. A lot of the ideas for what we can throw into the show come from those audience interactions.
From time to time we'll also offer one-day workshops; we've had quite a few requests to offer lengthier and more detailed training opportunities, so hopefully that's something we can offer in the future. Ultimately, I'd like to expand the use of improv principles to corporate training settings, but that's much farther down the road.
7. Do you have any advice for newbies looking to enter the improv scene?
One of my very first improv teachers from Second City once said, "You want to do improv? Just do it… even if it starts with just you by yourself out on the sidewalk." That sentiment taught me that there's no key to becoming an improviser other than just making the decision to make it happen. I found (and probably harassed) some like-minded people near me looking to put on a show and our journey continued from there.
The way to get better at improvising, however, is just to learn as much about improv as you can wherever you can, and then, perform it. Find improv classes or trainings if possible. Watch as much improv as you can find. If you can't find any live performances near you, there are a ton of videos online. Read as many improv books as you can find; I would suggest starting with "Truth in Comedy" by Del Close and Charna Halpern, as well as the "Upright Citizens Brigade Comedy Improvisation Manual" by Matt Walsh, Ian Roberts, and Matt Besser. The best way to get better at it is simply to perform it wherever and whenever you can, even if it's just you by yourself out on the sidewalk.