Whether you realize it or not, you've been to a hybrid event. Every live sporting event or Oscars show or talk show you've watched could be classified as a hybrid event. Hybrid events are exploding in popularity, and for good reason. Hybrid events have the unique distinction of bringing together the magic of in-person events and the accessibility of virtual events with a heavy dose of mass appeal. But if you've never hosted a hybrid event before, you might be at a loss for how to make your in-person event hybrid, or how to add an in-person component to your virtual event. We're here to help with 15 creative ideas for hybrid events.
What Is A Hybrid Event?
First, let's cover the basics. Simply put, a hybrid event exists in the middle ground between in-person and virtual events, offering a 'best of both worlds' alternative. These types of events include both an in-person and a virtual component where guests can join online or attend your event in-person.
While their popularity skyrocketed in the past couple of years, hybrid events are nothing new. And that's one of the beauties of the hybrid event, it is a tried and true success. It's a great way to allow your audience to support your event in the way that is most comfortable for them without sacrificing quality. It's also never been easier to achieve or set up than it is in this era of technology.
What Do Hybrid Events Look Like In Reality?
Realistically, any type of event or venue has the potential to create some sort of hybrid event offering. For some, it looks like live-streaming their in-person events. For others, it means creating an interactive experience between the virtual and in-person guests. Unless you already have some sort of live-streaming equipment, this will require some upfront purchases to ensure you have all the equipment you need.

What Are the Benefits?
Increased attendance.

With multiple attendance options, your event can support a larger number of guests and your event is more accessible to those guests which boosts overall attendance.

Positive ROI (Return On Investment).

Hybrid events are more valuable to sponsors due to their increased reach and participation flexibility and this combined with the reduction in costs leads to an increase in ROI.

Reduced carbon footprint.

A reduced in-person audience means a reduced carbon footprint since you're no longer consuming as much food, utilizing as much transportation, or demanding as much energy.

Guests can choose how they want to participate.

With a virtual option, your guests can join your event from anywhere in the world which offers them an unprecedented amount of freedom and flexibility.

Increased sponsorship opportunities.

Opening up your event to an online space affords you the opportunity to offer ad space to sponsors that wouldn't otherwise be available.

Greater audience engagement.

It's often easier for online guests to engage by commenting or sending a thumbs up in the chat than for in-person guests so hybrid events can allow your guests to better engage with you during the event.

Data collection.

Hybrid events make it easy to acquire attendee information and to track, store, and analyze all their reactions and interactions. This data can be analyzed to determine what was successful and what wasn't at your event.

Built-in contingency plan.

Since you already have an online event set up, in the event you can no longer hold your in-person event due to weather or unforeseen circumstances, it's fairly simple to turn your hybrid event into a completely online one.

Increased flexibility for guests.

Things come up and plans change, hybrid events allow guests to attend events even if they can no longer make it in-person so they don't have to miss the event entirely.

Reduced costs.

There will be some increased costs initially with equipment purchases, but after that your in-person costs will decrease and online events have low maintenance costs so overall you'll be saving money.

Evergreen content creation.

You now have a fully recorded event and a great cache of valuable content that you can repurpose and use in multiple ways without much extra effort.

Can You Give Me Some Inspiration?
Alright, we'll list off some ideas to spark the flame of inspiration:
Trade Shows/Conferences
1. Live stream speaker sessions
. Don't forget to include entertainment breaks for online guests during in-person transition periods; these should also be live streamed or pre-recorded and could potentially be online only content. Create hybrid breakout rooms separate from the in-person breakout sessions to allow the online participants to interact and get the most out of their experience. Send welcome packets to virtual attendees to increase anticipation and encourage engagement. These could be physical packages sent with some goodies or digital informational packets and details. Always share on-demand content with all attendees. Send recordings of the sessions to all your guests after the event has wrapped, you can even make this available on your website, creating future value.
Food and Beverage Events:
2. Hybrid wine and cheese tasting.
Send all your virtual guests a box with the wine and cheese you'll be sampling and allow them to join breakout sessions to discuss the selections with other guests.
3. Hybrid cooking demo.
Send virtual guests an ingredients list and recipe in advance or send them a prepped ingredient box so they can join your live-stream and follow along with the instruction. Don't forget to make the recording available on-demand for attendees to look back at later.
Escape Rooms
4. Virtual Escape Room.
These are great for remote office events to allow teams to engage with each other virtually. You can create online escape room adventures based on current escape rooms. Guests can join via Zoom or another virtual meeting platform and work through the clues together.
5. Hybrid Escape Room.
Allow guests to attend in-person and virtually. Certain actions on-site may trigger digital clues or puzzles to be sent to any virtual participants. Watching from a camera in the corner, virtual participants can interact with their in-person teammates and help solve the puzzle before time runs out.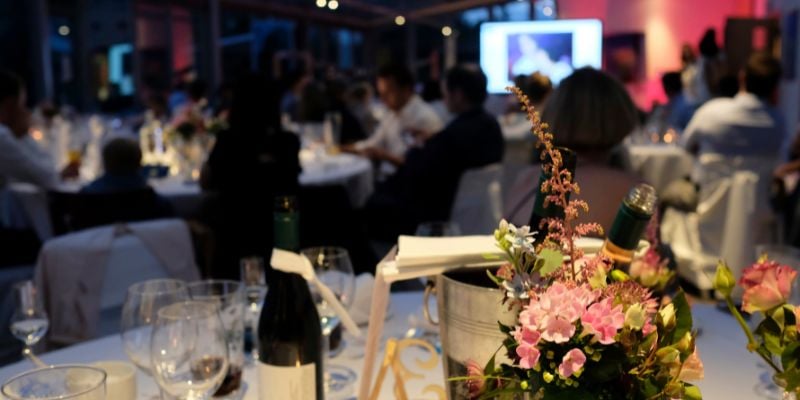 Community Events
6. Live-streamed community events.
Increase attendance exponentially by live-streaming your awards ceremony, fundraising gala, homecoming event, graduation, etc. This will allow guests from all over the world to participate and join your event to support the cause or their loved ones. With some live-stream platforms (like Passage) you can utilize the live donation feature to allow guests to instantly support your fundraising efforts or organization. You may also consider an added incentive if 'x' monetary goal is reached: something like a cream pie to the face or the promise that 'so and so' will shave their head.
Sporting Events
7. Live-stream the event.
This is simple and straightforward but still a great way to encourage participation from all your fans. Set up a live-stream of the game and send the recording to attendees as on-demand content.
8. Live Q&A with the coach.
This is a great way to increase engagement and offer your audience a totally unique experience where they can engage with their favorite coach.
9. Players meet and greet.
Allow your guests an opportunity to meet their favorite players virtually and talk with them.
Live Theater and Concerts
10. Meet and greet or Q&A with the artists, actors, or director. Set up a live session where guests can talk with the people who put together their favorite event. This could be a one on one private session or a group event where everyone has a turn to speak with the participants.
11. Live-streamed event. For concerts, you can also ask for song requests in the comment section or allow online participants to vote for which song is played next.
Family Event Centers
12. Live-stream competitive events.
Hosting a bowling competition? Why not live-stream is for guests who want to join from home to support their favorite bowlers.
13. Virtual/Hybrid escape rooms.
14. Virtual Family Game Night.
Set up an online space where families can play their favorite games together from wherever they are. From Sorry! to Family Feud, you'll be bringing families and friends together in a whole new way.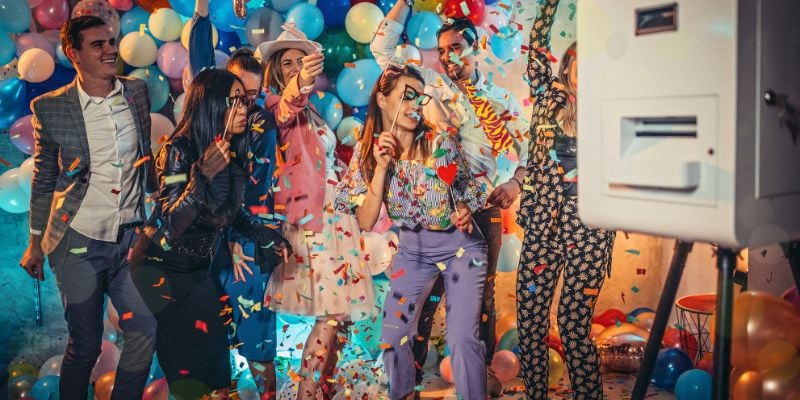 General Ideas
15. Virtual Photo Booth participation.
If your event utilizes a photo booth, this could be a great opportunity to engage with your online audience. For example, you could offer a custom frame for online guests to take their own photos at home and tag your event on social media. Also, you could create an online and in-person integrated sharing system where the photos taken by online guests are displayed near the photo booth and vice versa.
Hybrid Event Best Practices
Clearly define your goals.

This is best practice for any type of event, but is specifically helpful for hybrid events where you're trying to find new ways to engage two audiences.

Stick to the budget.

It's okay to start small and build from there, don't go crazy on the first round.

Create one event, but two experiences.

A hybrid event shouldn't feel like a separate event for your guests, even if there are some in-person/virtual only offerings. Creating a cohesive and integrated experience by encouraging engagement between your live audience and your virtual one is key.

Keep the audience engaged.

As with any other event, you want your guests to be engaged and to have a good time.

Offer on-demand content.

Once the event is over, offer the content and recordings to your audience on-demand so they can go back and continue pulling value from your content.

Prepare online exclusive content.

This helps virtual attendees feel special and included.
Let's Wrap It Up
No matter your industry or the stage of your organization, hybrid events offer a win-win situation. With all the advantages of online events and the exceptional experience offered by in-person events, adding a hybrid option to your event offerings could be a game changer.
The best part? Passage offers all the features and functionalities your event needs to set up hybrid offerings for your event.